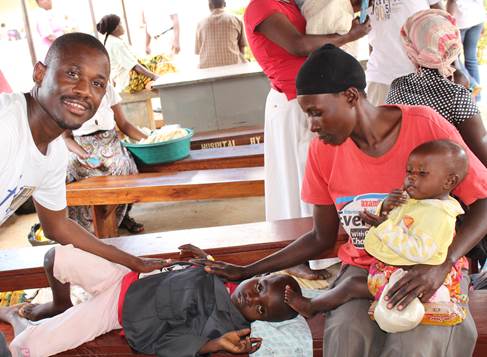 "Go into all the world and preach the Good News to everyone." (Mark 15:16)
Dear Friends,
I greet you in the name of our Lord Jesus Christ! Thank you for your continued prayers and support for Faith Radio Uganda.
We continue to focus on building the advertising base for Faith Radio. Some of the companies we are talking to include: Pepsi, Vitafoam (mattress manufacturing) and Bidco (Oil Company). Please pray that we will be able to sell advertising to these and other companies to create income for the radio ministry.
We also continue to do outreach/listener promotions in the Butaleja and Mbale districts to build up our base. We work very hard to keep in touch with our listeners!
Please pray for our upcoming blood drive next month, as we partner with Mbale Public Hospital to provide blood for the sick patients. We also have a mosquito net outreach planned for the children in the local hospital. However, we need funding!
We thank God for all of you who sent in donations last month to help fund the operations of Faith Radio.
Please pray that God would increase the Faith Radio support team!
We need your prayers for:
Faith Radio monthly support
Sell more advertising income to help off-set operational costs
Safety of the Faith Radio staff – coming and going each day/night
Sharon and I and my parents for health, safety and wisdom
For children at Mbale Hospital who are suffering from Malaria
The Blood Drive in May
– Funds to purchase mosquito nets for the kids our next hospital outreach
Thank you for partnering with the Faith Radio ministry – All the Glory belongs to GOD!
Praying for you and your families always!
GOD bless you,
Daniel Okabe
Managing Director
Faith Radio Uganda
Follow Us on Facebook: https://web.facebook.com/daniel.okabe
Please make your tax-deductible checks out to:
"FLMUSA" (First Love Ministries USA) and mail to:
Don Nourse – FLMUSA
56 Cornflower
Irvine, CA 92620
To donate securities (Stocks & Bonds) contact Don Nourse.
Don Nourse
Chairman/President
First Love Ministries USA
O (949) 724-4703
C (714) 222-7800
Email: dnourse@lee-associates.com